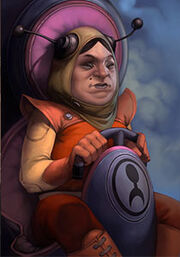 32
Profession
Edit
Surface Explorer
Specialist in approach missions to unknown planets, Hua can land on pretty much any surface in any conditions. She was aboard the Epygron, the first exploration vessel to encounter extra-terrestrial life.
Detailed Bio
Edit
3096

Born on Earth.

3115

Hua is accepted into the Copernik institute of exploration. There she studies with talented professors such as GL Maubrick and Nil Carlsson. Despite a genuine interest in the study of extraterrestrial biosphere, Jiang Hua shows more talent in the domain of surface exploration. She carries out several missions on Charon and Neptune where she learns to operate Class B reconnaissance ships.

3116

Jiang Hua misses the contest to be a part of the Gonzak crew heading for Epsilon-Indi. She continues her studies into extra-terrestrial botany then leaves on the Epygron heading for Lalande 21185 to explore the two remaining unknown planets in the system.

3121

While carrying out routine analyses on Naumachia, Hua is attacked by a local life form. Her companion is killed, but Hua managed to get hunt down her attacker. Despite sustaining a leg wound, she managed to make it back aboard the Epygron. Following the incident, no sign of life is detected on the planet.

3127

Under the orders of Kim Jin-Su, Hua took part in the exploration of Tau-Ceti. She is the only pilot who is capable of guaranteeing risk-free landings on planetary bodies rich in boxylium. During this expedition, Hua discovers another 3 forms of extra-solar plant life, one of which is capable of surviving in areas without water.

3143

Upon her return to Earth, Hua is bankrolled by ChangMei-Tech to design and test a new surface vessel. She and her team move to Xyloph-17 which was already the base for the Magellan space exploration project

3146

When he is named leader of the Magellan project, Kim Jin-Su signed a contract with ChangMei-Tech to equip the Ark with an exploration vessel. Jiang Hua is sent to join Jin-Su's team to integrate the ship aboard the ark.

3152

Hua assists Ian Soulton with the creation of a compact hydroponic garden capable of sustaining life for a crew of 16..

3153

The Icarus prototype is delivered to the team, it is thoroughly tested by the pilots in the most extreme conditions possible. An accident during one of these tests near the Sun's surface forces Hua and the young pilot Roland Zucalli to survive for 36 hours on the surface of Mercury..
Ad blocker interference detected!
Wikia is a free-to-use site that makes money from advertising. We have a modified experience for viewers using ad blockers

Wikia is not accessible if you've made further modifications. Remove the custom ad blocker rule(s) and the page will load as expected.